Invisalign
An "Adult" Solution: Invisalign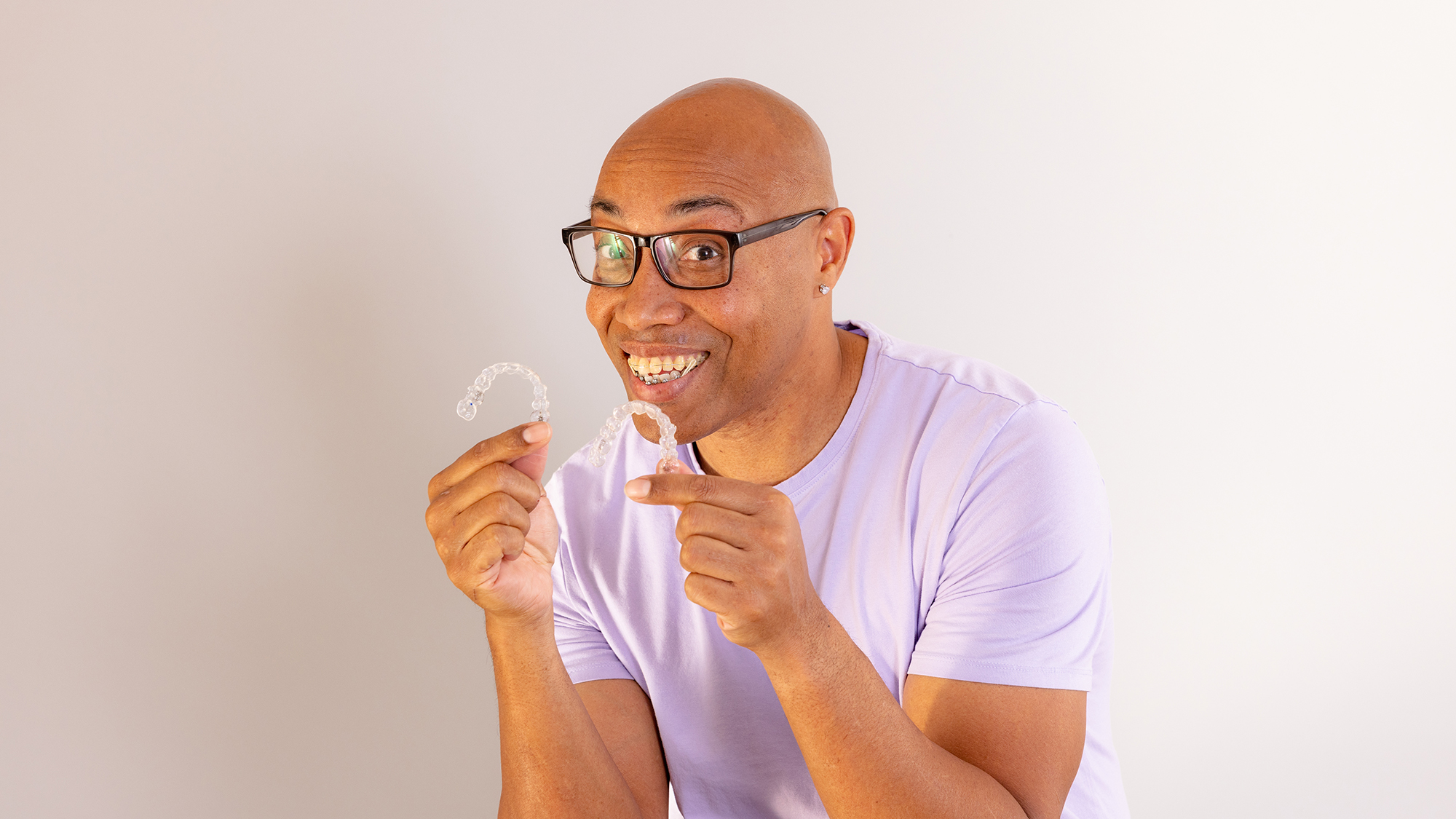 Did you miss out on orthodontic treatment during your childhood? It's not uncommon! Seeking orthodontic treatment as a grown adult may sound terrifying, maybe borderline "embarrassing," but we can assure you it's not! You are not alone. Traditional metal braces might be what comes to mind when you think about fixing your smile, but with new technology comes a new era of orthodontic treatment. Fortunately, there are now several modern alternatives that can straighten your teeth discreetly and comfortably: Invisalign, behind the tooth braces, or even clear braces. All great options for adults who want to go after their dream smile. It's never too late!
Invisalign Rundown
Invisalign is a clear aligner made of smooth, flexible plastic that works to align your teeth with no irritation inside of your mouth, no wiring, and no metal in sight. The clear plastic appears as if there is almost nothing on your teeth! They are worn OVER your teeth and are designed to gradually move them into the desired position. Invisalign aligners are removable, which means no food restrictions! You can take them out to eat, drink, and brush your teeth before putting them back in. This modern style of treatment is comfortable, discreet, and efficient.
The Invisible, Invisalign Method
The first step on your Invisalign journey is an initial consultation with a qualified, board-certified orthodontist, aka Dr. Willett. During this free appointment, Dr. Willett will:
Perform a comprehensive orthodontic, oral exam
Take 3D X-rays to assess where your teeth and jaw are, presently
Complete an airway assessment to determine the impact of orthodontic treatment
Take a digital scan of your teeth with our intraoral scanner to create a 3D image of your mouth
Review the expected treatment outcomes with our treatment simulator
After Dr. Willett has received your approval and answered all of your questions (whether they are about all of us at Lincoln Orthodontics or regarding your treatment), Dr. Willett will:
Use all of the information gathered to create a unique treatment plan designed specifically for you
Manufacture your custom-fit Invisalign aligners (you will receive new aligners every 1-2 weeks to keep your teeth on track)
Begin the process of straightening your teeth with Invisalign!
Invisalign treatment time usually lasts on average about 9 to 15 months. But every patient's case is different! Similar to life, your individual timeline probably won't be the same as someone else's. Here are a few tips to remember while on your Invisalign journey:
Aligners should be worn for about 22 hours each day to gradually achieve teeth alignment, bite correction, space closure, or whatever Dr. Willett and you have decided your custom treatment goals are.
Aligners should only be taken out when eating, drinking, and brushing your teeth.
Before putting your aligners in, remember to brush your teeth and floss, as well as rinse/clean out your aligners.
(Not So) Invisible Advantages
No matter what orthodontic treatment you receive, you will always get the best care from Lincoln Orthodontics. Each treatment option has its upsides, but when it comes to Invisalign – especially for adults – the advantages will not only benefit your teeth, but your uncertainty about receiving orthodontic treatment in the first place. Here's why:
You won't feel like a teenager (or worry about negative judgment) by having metal or wires in your mouth. Braces are a perfectly fine option for adults as well, but it's common to want to be discreet about treatment.
You'll barely notice Invisalign on your teeth – they are practically invisible.
Invisalign is mostly recommended for adults. Adults are likely to actually wear their trays as prescribed and stay consistent with treatment. (It's like Invisalign was made for you!)
You won't have to visit Lincoln Orthodontics as much as you would with other treatments. Invisalign = less appointments!
Dr. Willett and our team will always work hard to make sure you have all of the information you need and get the best treatment for achieving your dream smile.
More "Invisible" Options
If Invisalign doesn't have you convinced, or just doesn't fit your personal preferences – we have other "invisible" orthodontic treatment options available:
Clear Ceramic Braces: Durable, clear brackets that are meant to blend with the color of your teeth. They are similar in dimension to metal brackets, but are less visible. They come with clear o-rings, and elastics (again, if needed for bite correction).
InBrace®: A new, truly invisible type of braces treatment. InBrace® lingual braces use a Smartwire®, which is applied to the back of your teeth. You can start seeing results in just weeks! Lincoln Orthodontics is the only place in the city where InBrace is currently offered.
Come See Us For a Free Consult
Invisalign has revolutionized adult orthodontic treatment by providing a discreet and comfortable solution for achieving straighter teeth. With its virtually invisible aligners, minimal lifestyle disruptions, and impressive results, it's no wonder that more and more adults are choosing Invisalign to enhance their smiles! Embrace the convenience and effectiveness of Invisalign, and embark on your journey to a confident smile today. Call (402) 489-8841 to schedule a free consultation with Dr. Willett at Lincoln Orthodontics.